Welcome to Transition Horsham!
Transition Horsham is a community group of local Horsham area residents who are concerned about the effects that climate change and other environmental and economic problems will have on our lives in the near and medium future. We support the ideas and practical solutions of the Transition Towns movement set up by Rob Hopkins in 2006 in Totnes, Devon, where people like us wanted to do something positive to build in flexibility and resilience to their community, so that we not only survive future changes, but thrive.
So Transition Horsham is all about building community networks, sharing and learning new skills. It is about cutting our carbon emissions through establishing new community based ways of producing energy and heating our houses efficiently, reducing our individual carbon footprint, recycling and reducing waste. It is about growing healthy local produce, encouraging local biodiversity through seed swaps, mending clothes and knitting, baking bread and making preserves, learning more through reading groups and film nights, having fun and travelling lightly.
We have a number of projects on the go, so look through the website, join us on Facebook, check out the events page, sign up to get notifications, and if you think there is something you could help with or want to start, then don't hesitate, come to an event and let us know. We look forward to getting to know you.
To find out more about the Transition idea, you can start here.
Allotment barbecue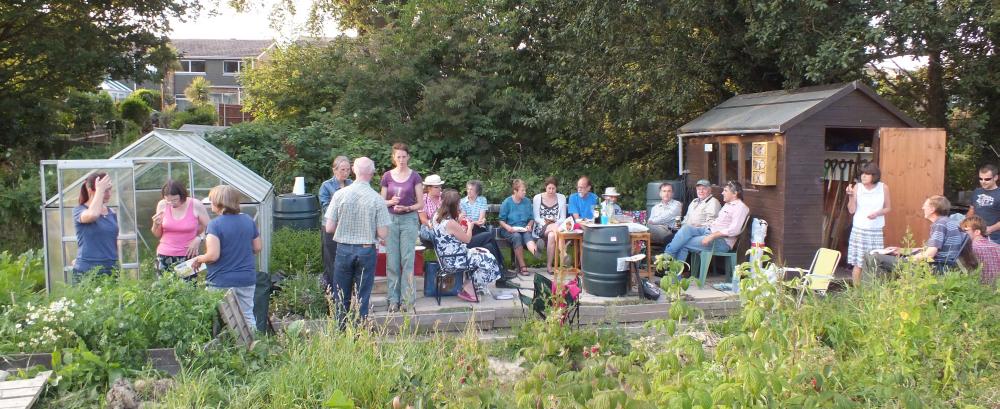 On Thursday, July 31st, we held a barbecue at the Community Allotment. You can see more about it and the Community Allotment generally here.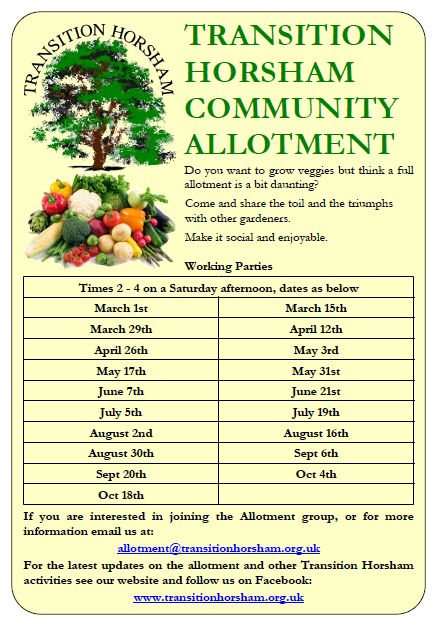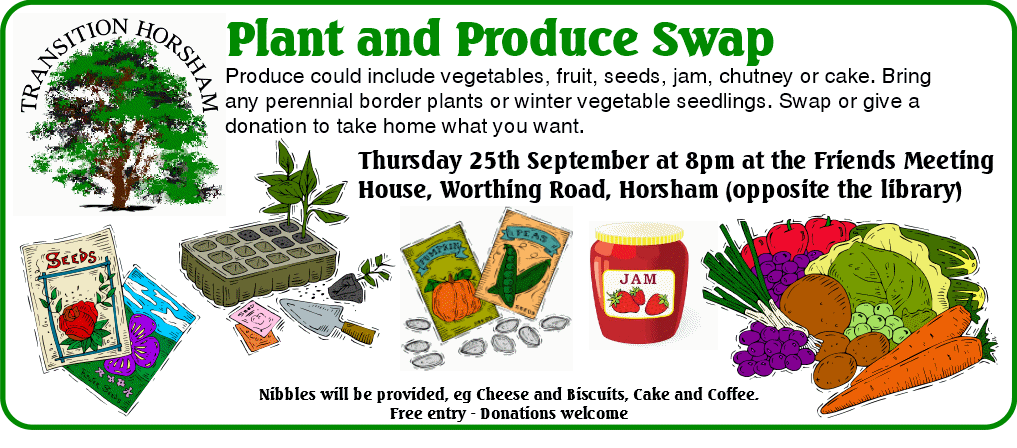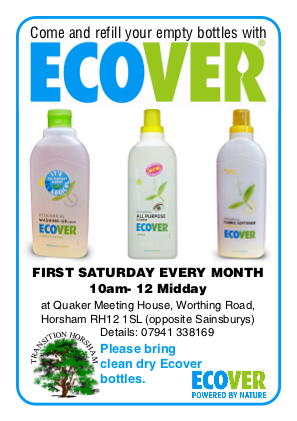 Wednesday, September 10th, 2014 from 8pm at The Malt Shovel, 15 Springfield Road, Horsham RH12 2PG
Come along for an evening of networking and chat about climate change, peak oil, the environment, living in a sustainable way and all that sort of thing!
Green Drinks normally happens on the second Wednesday of each month, but not in August or December.
Plant and produce swap
Thursday, 25th September, 8 pm at Friends Meeting House, Worthing Road, Horsham, RH12 1SL (opposite Sainsburys)
Bring your excess produce and preserves, herbs and herbaceous plants that have been divided, veggie seedlings for winter, or such like - swap or give a donation and take what you want. Nibbles will be available.
What fracking means to Sussex
Thursday, 30th October, 8 pm at Friends Meeting House, Worthing Road, Horsham, RH12 1SL (opposite Sainsburys)
A short 30 minute film entitled An Autumn Diary, plus a talk by its maker, Philip Davidson. It would be good to get a debate going so come along with questions and opinions.
You can see more about the film here
Recent meetings
Click here for notes of the March meeting of Transition Horsham Steering Group.
Go to the Archive for back issues of Newsletters and minutes.
Lewes Eco Open Houses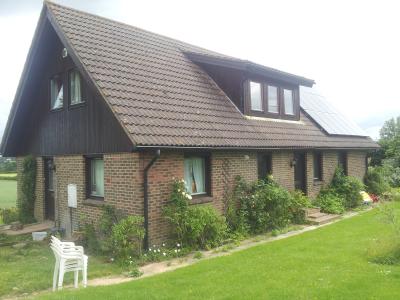 Lewes Eco Open Houses will run its fifth annual event over two weekends in September 2014. 16 eco-friendly homes will open their doors to the public. The inspiring homes on show range from renovated Victorian cottages to 1960's conversions and stunning architect designed new-build properties. Properties in the villages and countryside feature exciting off grid measures such as air, ground and water source heat pumps, as well as being examples of good eco building. All have drastically cut their electricity, gas and water bills as well as carbon emissions.
The homes are free to visit and all are welcome. Visitors can see and hear how - with a bit of determination and imagination - it is possible to make cost effective alterations that will significantly reduce a home's energy consumption.
Further information, case studies and photos can be found at www.lewesecoopenhouses.org.uk.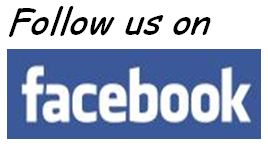 Projects & groups - click for more details
New or topical links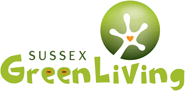 Take a look at this brilliant website, find out about the new coffee waste packaging recycling scheme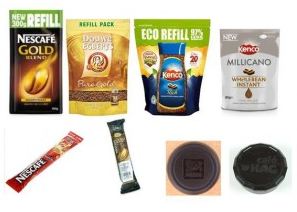 - and meet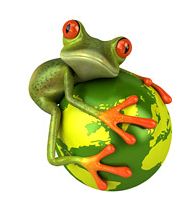 Pedro, the planet-loving Peruvian tree frog.
We are part of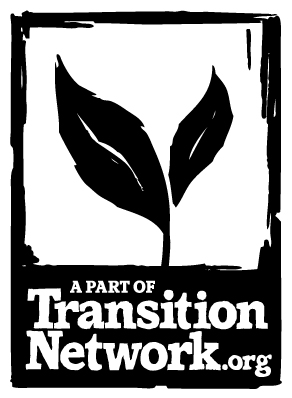 and we work closely with
Horsham Organic Gardeners Society
Small ads
Permaculture fruit tree pruning specializing in mature trees. 07908 710 670
Horse manure, well rotted, 50p a sack, bring your own sacks. Phone 01403 732514