Welcome to Transition Horsham!
Transition Horsham is a community group of local Horsham area residents who are concerned about the effects that climate change and other environmental and economic problems will have on our lives in the near and medium future. We support the ideas and practical solutions of the Transition Towns movement set up by Rob Hopkins in 2006 in Totnes, Devon, where people like us wanted to do something positive to build in flexibility and resilience to their community, so that we not only survive future changes, but thrive.
So Transition Horsham is all about building community networks, sharing and learning new skills. It is about cutting our carbon emissions through establishing new community based ways of producing energy and heating our houses efficiently, reducing our individual carbon footprint, recycling and reducing waste. It is about growing healthy local produce, encouraging local biodiversity through seed swaps, mending clothes and knitting, baking bread and making preserves, learning more through reading groups and film nights, having fun and travelling lightly.
We have a number of projects on the go, so look through the website, join us on Facebook, check out the events page, sign up to get notifications, and if you think there is something you could help with or want to start, then don't hesitate, come to an event and let us know. We look forward to getting to know you.
To find out more about the Transition idea, you can start here.
Climate March - Sunday November 29th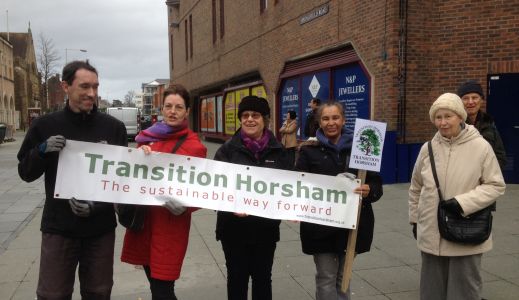 Members of Transition Horsham ready to join the Climate March that took place in Horsham on Sunday 29th November, 2015, in advance of the Paris Climate Change Conference. You can see more about the march on the West Sussex County Times website here.
Are you a Horsham seed saver?
Have you saved any vegetable or flower seed this year? You are not too late, now is the time to do it before everything dies back. You will then be well set to come to Horsham's Seedy Saturday, on Saturday 20th February 2016, 10.00am to 2.00pm. This is our annual seed swap held at the Friends Meeting House for local gardeners, allotment holders and enthusiasts to swap what they have collected for other seeds that they want.
If you have saved your seed you need to keep it dry and cold, then pop into a small envelope, labelled with what it is, variety if possible, when and where collected. You will then be able to swap this, packet for packet, for some of the tempting and unusual varieties other people have brought. Of course you can pick up seeds for a donation as well.
If you have not collected your seed before and are wondering why you should bother, then here are a few good reasons:
Only those seeds registered on the National List, now combined with the EU lists, are able to be sold legally and many old varieties have not been included, or not identified, or just overlooked.
New varieties are more profitable for the seed companies than the old, and the new F1 hybrids do not grow true to type. Keeping a good genetic variety is really important for resilience to disease. If varieties are too genetically similar they can all get wiped out by pests or diseases.
Genetic variety is also really important for maintaining and increasing biodiversity. Think of all the butterflies, moths, insects and now the bees, which are struggling for survival and disappearing from our gardens. They need a variety of food sources and habitat, we can help. Your own seed gets naturally adapted to Horsham soil and climate; it is the best you can get for your garden or allotment
You may have a plant with a particularly attractive flower, or vegetables that grow and taste great, share the seeds around so others can appreciate what you have cultivated, and keep these good things going.
Seeds can be living heirlooms, passed from one generation to the next with all the memories they bring. Heritage seeds have a story, your family's story.
Saving seed saves you money.
So Horsham seed savers save your seed now and put this date in your diaries for next year Seedy Saturday, 20th February 2016, 10.00am to 2.00pm, at Friends Meeting House, Worthing Road, Horsham. In addition to the seed swap tables there will be interesting local stalls, such as the Flax Farm with their delicious flapjacks, Wimblehurst Chocolates, and the usual variety of horticultural societies and nature reserves. You can also drink tea or coffee, eat homemade cakes, and make friends with other gardeners
Ecover refills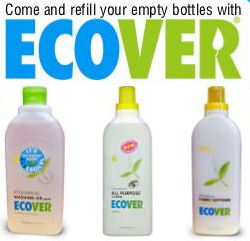 The February Ecover refill service will not be happening on the usual first Saturday of the month but on Saturday, 13th February from 2.30 to 4.30 pm at Friends Meeting House, Worthing Road, Horsham, RH12 1SL (opposite Sainsburys)
Bring clean, empty bottles
Sun Tzu in the Garden
Southwater Horticultural Society are hosting a talk by Guy Deakins, at the Southwater Village Hall on Wednesday 17th February at 7.30pm.
The speaker, Guy Deakins, tells us that Sun Tzu was a Chinese general and military strategist. His book, The Art of War, has a surprising relevance to fighting pests and diseases in the garden so Guy's talk is a light hearted and informative look at Sun Tzu's military strategy for dominance on the battlefield that really does help tame garden pests and disease. You can read more about it here.
Non-members are very welcome – entry is just £1!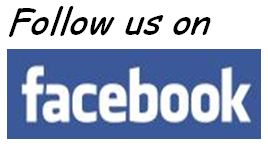 Projects & groups - click for more details
We are part of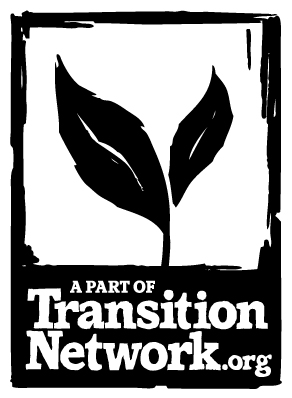 We work closely with
Horsham Organic Gardeners Society
and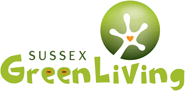 Other key links
Small ads
Permaculture fruit tree pruning specializing in mature trees. 07908 710 670
Horse manure, well rotted, 50p a sack, bring your own sacks. Phone 01403 732514