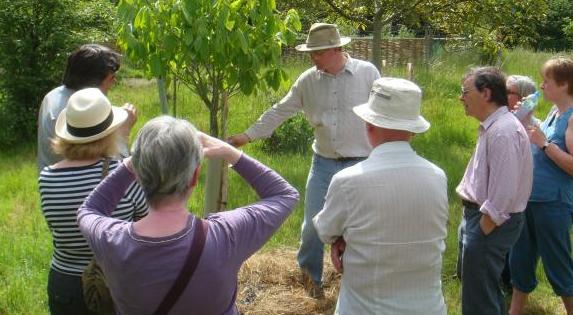 Welcome!
We are the local group of both Garden Organic (Henry Doubleday Research Association) and the Soil Association. We aim to promote organic gardening and environmentally friendly lifestyles. We are a small and friendly group with members who range from complete beginners to experienced organic gardeners and ex-professional growers. There is therefore a wealth of experience and interaction of ideas which all our members are enthusiastic to share.
We produce an e-mail newsletter to keep you up to date. We have regular indoor meetings with speakers and discussion groups as well as farm and garden visits in the summer months. Our talks have ranged from herb growing to climate change with lots of speakers on vegetable and fruit growing. We have visited leading box scheme suppliers, gardens such as Loseley and Wisley, all with expert guides, and toured local organic farms.
Our indoor meetings are normally held at the Friends Meeting House, Worthing Road, Horsham starting 8.00pm. The programme for Spring 2017 is set out below.
We welcome new members and are also delighted when members wish to become actively involved in the organisation of events and/or serving on the committee. Membership costs £10 per person for the calendar year. We charge half that amount for those joining after 31st August. If you are interested in joining or just coming along to a meeting (£2 donation suggested) then please contact our Membership Secretary, Michael Knights by e-mail mandjknights99[at]btinternet.com (Please replace " [at] " with "@". The address is shown here without the "@"sign to reduce spam) or phone 01403 822334.
Forthcoming Meetings 2017
Details of the Spring 2017 programme, to be held at the Friends Meeting House, Worthing Road, Horsham starting 8.00 pm:-
Tuesday 7th February: Talk by Adam Lea, Discussion Group - Weather and Climate for Gardeners
Our own Member, Adam Lea, will take us through some of the reasons for climate variability and change with a look at the factors governing weather. This is an opportunity for a more in-depth look at this perennially interesting and much discussed topic. He will also look at longer term projections and impact predictions for climate change and we will have an opportunity to discuss mitigation ideas. An evening not to be missed.
Tuesday 7th March: Illustrated Talk by Mark Saunders - Vegetable Growing techniques
It is always a pleasure to hear Mark Saunders' presentations and this newly updated talk should interest any member who wishes to improve their vegetable produce. Mark is always brimful of excellent ideas and tips and the results he gets at Fittleworth House, where he is long-standing Head Gardener, are impressive. This talk will be followed by a guided visit for members in late June.
Tuesday 4th April: Illustrated Talk by Michael Joseph - Establishing, Managing and Enjoying a Wildflower Meadow
Alarmed at the rapid and devastating decline in flower rich meadows, Michael and Jane Joseph sowed their small paddock with native seed 28 years ago. It was a failure, a disappointment and mistakes were made. Now it is absolutely stunning as you will see in the presentation photographs. Michael will share that experience with us so that we can successfully create our own relatively quickly, cheaply and easily. Learn the importance of meadows to your organic vegetables, to your health, to wildlife and to the planet.